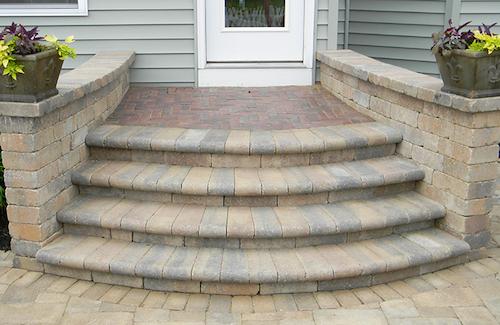 Concrete paver steps can have a usable lifespan that can endure for decades! The variety of styles available makes it possible to create well-patterned steps that replicate the look of natural stone or brick. A concrete paver step can fit into any home's landscape and architectural style, thereby adding value and functionality to your home.
Since steps play a vital role in homes, concrete pavers steps are a great way to define paths and entryways, making them beautiful. Our team of professionals at Evergreen Pavers & Artificial Turf will carefully design and install your concrete steps at appropriate parts of your home. You need not worry about slipping on rainy days when they're wet. Our professionals in Orlando will utilize textured pavers that are slip-resistant and safe for older and younger family members.
If you have an existing hardscape, like an outdoor patio, pool deck, outdoor kitchen, or retaining walls, we can match your existing hardscape and link your entire outdoor living area with beautiful concrete pavers steps. Admittedly, the lifespan of a step made of pavers can last up to thirty years or more. This kind of durability depends on the step being installed correctly. To ensure that you get the most out of your paver's steps, get into contact with our professional pavers in Orlando.
We Are Ready. We Are Expert. We Are Here to Help.